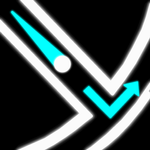 Download APK (33.9 MB)
Tap Track Descriptions
Check out Tap Track, a colorful arcade game where you have to time your taps around a track to refill your life meter! This simple tap game is great for players who want to test their reactions against the clock!

- Navigate your way through this infinite track while you time your taps
- Tap to reverse the player's direction and hit those highlighted areas
- Earn bright color variants to personalize your experience
- Improve your reaction time with this fast paced game

Download Tap Track and put your reactions to the test!
Details
Version
1.0
Package

com.adknown.taptrack

Developer
Adknown Games
Requirements
Android 5.0+
Publish Date
24 March 2020
Category

GAME

Arcade