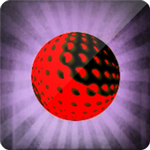 Smash the Ball: Unleashed HD(Classic)
Build : V1.2.1
Developer: Bharath Vishal
Secure Install
Download APK (31.9 MB)
Smash the Ball: Unleashed HD(Classic) Descriptions
Smash the Ball: Unleashed HD(Classic)


Smash the ball- judge not by its name, as this one is guaranteed to be enjoyable, fun-filled and addictive with many dynamic in-game bonuses, surprises till the end. This is a game where there are orbs, enemy balls and so on, all you have got to do is to control a simple red ball, collecting all orbs so as to pick up a key to progress through a sub-level and in turn do the same in the next sub-level to unlock the door. Doing this unlocks the next level. Though the objective sounds simple, it's not a walk in the park, as the level of difficulty increases dynamically through the introduction of tougher enemies as the game progresses. Also, it has an integrated achievement and stat system to notify the user of the achievement and game progress. For further info, look out for the help pics in the help option under Extras sub menu in the game.

The end words, it's easy to play but hard to master. So Unleash the ball, go on to unlock all the 21 achievements and finish the game 100%.


Features:
*Over 21 achievements to unlock
*Highly polished HD visuals
*Optimized for tablet
*Over 16 levels to Complete
*Features a eight-way customizable onscreen joystick and a tilt functionality
*Numerous in-game bonuses
*Ingame progress and stat track system
*Ad-free


From the developer:
As an indie game developer, this game is my first mobile release. I have spent several months designing, developing and testing to make it a quality release. I would like to hear all your comments and feedback for improvement in the future updates.

And please remember that your 5-star reviews help keep the updates coming.
Like us on Facebook to get game updates and info.

Product support update for this product has been discontinued. v1.2.1 is the last update to this game. More : https://sites.google.com/view/stbupdatetimeline/home


© 2013-2019. Smash the ball, Smash the ball logo and Smash the ball: Unleashed are owned by Vishtek Studios. Vishtek Studios was incorporated on Sep 14th 2016 as Vishtek Studios LLP. Vishtek Studios LLP is a registered, bootstrapped, self funded and incorporated LLP with two designated partners. All rights reserved.
Details
Version
1.2.1
Package

com.Vishtekstudios.SmashtheballUnleashedHD

Developer
Bharath Vishal
Requirements
Android 5.0+
Publish Date
21 March 2020
Category

GAME

Arcade