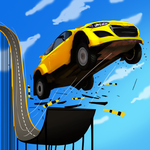 Mega Ramp Car Jumping Stunts Game 3D
Build : V1.3
Developer: Games Ark
Secure Install
Download APK (71.4 MB)
Mega Ramp Car Jumping Stunts Game 3D Descriptions
If you want to enjoy furious and extreme stunt game, So don't waste your time and play this Ultimate impossible mega ramp car jumping stunt game. Your mission is to choose the best high quality engine car and don't forget to tie seat belt and start your car stunt race with high car jumping and cross over the impossible car stunt. You have 5 chances to drive otherwise the game will failed and the level will be lost. After completing each level of curvy road challenge get coins and purchase more high quality extreme cars, monster trucks, buses, jeeps, Prado and monster high engine trucks. Damn sure you never had experience this kind of jumpy roads, impossible car stunt and curvy road driving before. Enjoy the extreme mega ramp car stunts game levels and configure your stunt cars. This is the real impossible mega ramp stunt car racing challenge.

Mega Ramp Car Jumping Stunts Game 3D: Mega Ramps Ultimate Races is simple control game to make you car stunt Master 2020 & king of ramps on vertical mega ramps to burn out the hot wheels on asphalt roads & GT car racing tracks. Infinite Ultimate car stunt races are added & each mega race is uniquely designed to keep boredom away. In each Mega Ramp car jumping game level, you have to reach at the finish line after different type of moving & stationary hurdles. In each level of crazy ramp car stunt, your challenge is to save yourself falling from sky-high tracks as toughest mega ramps. Nitro Booster will help you to power up the car engine to cover the loop stunts & meg ramp car jumps as an impossible mega ramp car game. On each asphalt track, the nitro car transform feature will help you to transform your car to a new upgraded ramp car as ultimate ramp car simulator 2020. You have to reach at check points to save your current position on mega ramp impossible tracks. After reaching the finish line you are awarded prize money to upgrade the features of your ramp car or buy new speed car for responsive impossible crazy car stunt experience. All types of ramp car stunt tracks are added like ramp car stunts, Mega ramp car stunts, vertical mega ramp & spooky stunts to enjoy turbo car drifting & stunt car race. Huge collection of ramps car is added in this car stunt game. Select your favorite drifting car to be the car drifter 2020 & car racer 2020 in dirt track racing.

Mega ramp impossible car stunt Driving games has difficulty which will gradually increase and make the game more challenging. Don't ever forget the importance of speed in the driving games and always race with passion on the mega ramp. Many of us forget there can be a shortcut to the finish point in the challenging games, so always try to find the shorter way out. Tricky road paths are where you will need to control the speed of your car in stunt game track and avoid crashes. The handling of the car plays a vital role at the curves in the levels of the best impossible mega ramp car stunt game. Race the car though the burning obstacles on the path to get your score up in the ramp car jumping stunt game. This game will give you ultiamte experience of the best mega ramp car jumping stunt game.


Mega Ramp Car jumping Stunts Racing - Extreme impossible Car Stunt Games Features:

• HD stunning graphics with rich road environment
• Multiple Modes i.e curvy Road Challenge & Mega Ramp Car Stunts
• Challenging missions to test your speed racing ultimate expertise
• Endless highway roads in the ultiamte enchanting sky above city buildings
• Plenty of levels to satisfy your car racing needs
• Explore the collection of 4x4 Suv's, Sports cars & Monster Trucks
• Realistic and high physics car controls
• Multiple camera views with special effects to better display extreme stunts
• Exclusive cybertruck vehicle to perform impossible stunts on mega ramps


Download the best Mega Ramp Car Stunts Racing Game - Extreme Car Stunt Games and experience insane car driving on impossible car stunt tracks in this impossible GT car racing game.
Details
Version
1.3
Package

com.ga.mega.ramp.car.jumping.stunt.game

Developer
Games Ark
Requirements
Android 4.4+
Publish Date
20 March 2020
Category

GAME

Arcade